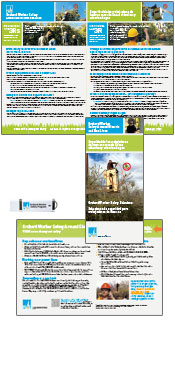 Nearly every week in the U.S., a tree worker is killed by contact with power lines, and many more are seriously injured. These tragedies include orchard workers who prune or hedge orchard trees or move irrigation pipe near power lines. In addition, orchard workers are at-risk for injury or death if they damage a natural gas pipeline when planting trees or removing trees or stumps.
Accidents can be prevented by following fundamental safety guidelines. Our kit can help you educate your employees about the basics of working safely around power lines and natural gas lines.
If you are an orchard grower in Pacific Gas and Electric's service area, order your FREE worker safety training kit. Use it to help protect your employees and your business..
Safety Kit Includes:
15 Bilingual Brochures cover topics including what to do if your equipment contacts a power line or a natural gas pipeline; planting, pruning and harvesting safely around utilities; and notifying 811 before you plant or remove trees.
15 Bilingual Visor Cards offer step-by-step safety instructions for various work site scenarios involving utilities.
1 Bilingual Poster covers safety distances and provides a step-by-step orchard worker plan for working safely around electrical and natural gas utilities.
1 Bilingual USB with videos that help workers reduce the risk of contact with overhead and underground utility lines.
Solicite su kit de seguridad gratuito para trabajadores de huertas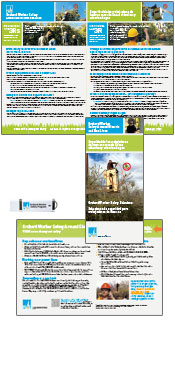 Cada año en los EE.UU., se produce la muerte de un trabajador de árboles por contacto con una línea eléctrica, y muchos más sufren lesiones graves. Estas tragedias también afectan a trabajadores de huertas que podan o recortan los árboles de huertas o mueven los tubos para riego cerca de líneas eléctricas.
Los accidentes pueden prevenirse si se siguen algunas pautas de seguridad básicas. Nuestros materiales le pueden ayudar a educar a sus empleados acerca de las pautas básicas de seguridad que deben seguir cerca de las líneas eléctricas y tuberías de gas natural al extender las escaleras, los recolectores de frutas y los tubos para riego.
Si es un cultivador de huertas dentro del área de servicio de Pacific Gas and Electric, solicite su kit GRATUITO de seguridad del trabajador.
Material incluido en el kit de seguridad:
15 folletos bilingües para trabajadores de huertas que cubren temas tales como qué hacer si su equipo hace contacto con una línea eléctrica o una tubería de gas natural; cómo plantar un árbol de manera segura y más.
15 tarjetas para parasol (visor) bilingües que ofrecen instrucciones de qué hacer paso a paso en varias situaciones que se presentan en sitios de trabajo donde existen instalaciones de servicios públicos.
1 cartel bilingüe que indica las distancias de seguridad y ofrece un plan de seguridad paso a paso para los trabajadores de huertas.
1 USB bilingüe con videos en inglés y español que ayudan a que los trabajadores reduzcan el riesgo de hacer contacto con instalaciones aéreas y subterráneas de servicios públicos.